Ownership
High Mesa Consulting Group is a New Mexico Corporation owned by Charles G. Cala Jr., PS, Juan M. Cala, Joseph M. Solomon Jr., PS, J. Graeme Means, PE, Joseph E. Gonzales and Paul J. Street.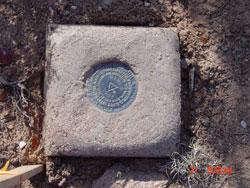 Officers & Directors
Charles G. Cala, Jr., President
J. Graeme Means, Vice-President
Joseph Gonzales, Vice-President
Joseph M. Solomon, Jr., Secretary
Company Experience
The staff of HMCG collectively offers many years of experience serving APS in the fields of Civil Engineering, Surveying, and Subsurface Utility Consultation. This experience enables HMCG to offer its clients diversified professional services ranging from brief consultations to the overall management of these components for large and complex projects. High Mesa Consulting Group has provided on-call surveying and engineering, and subsurface utility consultation services to the Albuquerque Public Schools (APS), beginning in 1979. That history of continued service has enabled High Mesa Consulting Group to evolve into an "on-call services" organization. As a result, we have added Albuquerque Metropolitan Arroyo Flood Control Authority (AMAFCA), the University of New Mexico, The Middle Rio Grande Conservancy District, Bernalillo County, McCarthy Builders, High Desert Investment Corporation, the Ruidoso Municipal School District, Bernalillo Public Schools, and the Veteran's Administration to our growing list of on-call clients. This client base has allowed High Mesa Consulting Group to steadily grow and succeed, thereby demonstrating to us the importance and significance of on-call contracts while also providing private sector clients with engineering, surveying, subsurface utility, and land use planning services in the commercial and residential land development sectors. High Mesa Consulting Group remains committed to providing quality professional surveying, civil engineering, subsurface utility consultation, and land use planning services to our clients.