Construction Surveying for an Infrastructure Project to Connect Hotel, Multi-Family Residential and Future Retail to an Existing Hospital, Albuquerque, NM.
High Mesa Consulting Group (HMCG) provided Professional Surveying services to support the planning, design, and construction of an infrastructure project for a downtown hospital in Albuquerque, NM.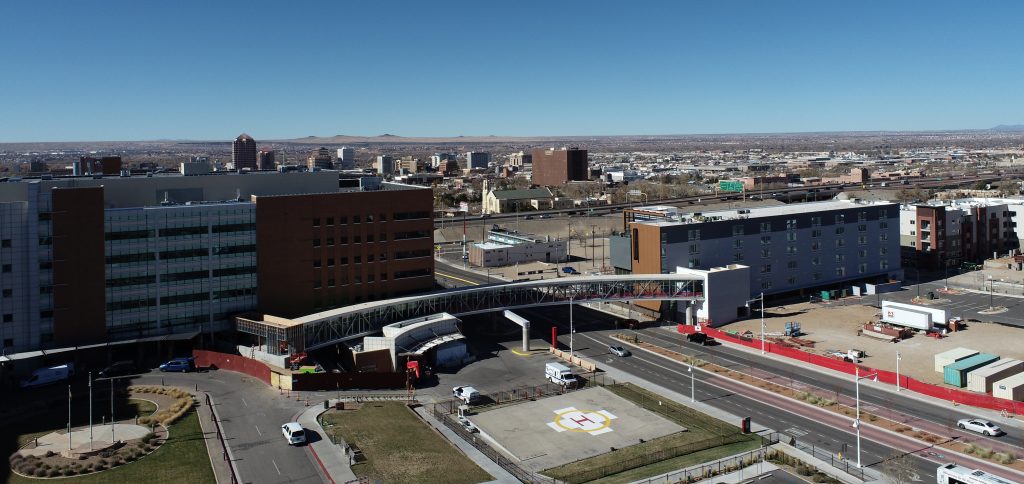 This project, nearing completion, has included combining several phases of new building construction, site demolition, and infrastructure reconstruction to connect an existing Albuquerque hospital to a new hotel and multi-family residential. This challenging project required careful planning and phasing to maintain service and functionality at the existing hospital with minimal disruption to traffic along Central Avenue. The pedestrian bridge was constructed to provide direct climate-controlled access from the Ronald McDonald House, located on the third level of the hotel, to Presbyterian Hospital. HMCG has served as part of the Jaynes Construction team, providing layout and verification for the placement of the columns, beams and infrastructure.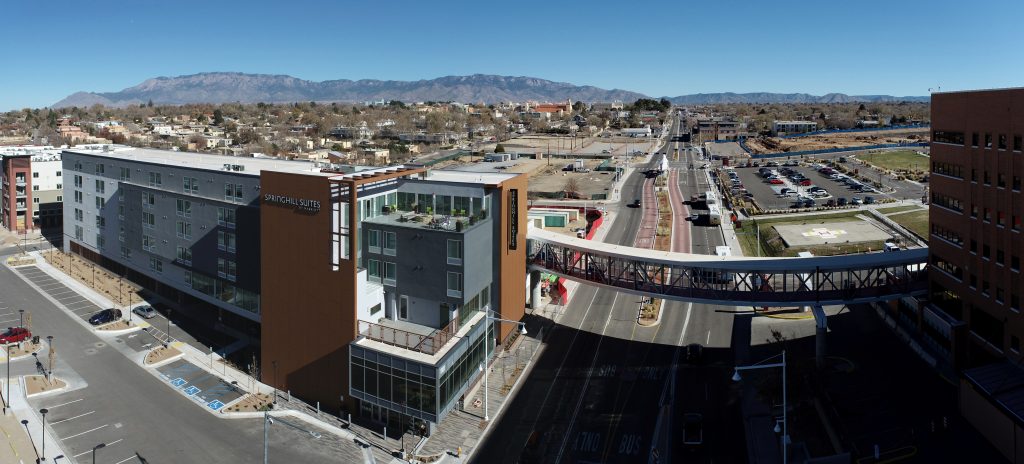 Through our on-call professional services contracts with the Jaynes, HMCG has provided a wide variety of design and construction phase planning, surveying, and utility consultation services to support the project. HMCG provided Utility Surveys of the site, in addition to offsite utility and roadway corridors, to support designs of public infrastructure and the on-site designs. HMCG conducted minimally invasive subsurface utility potholing investigations to confirm and determine depths of existing utilities to support designs, prepared construction plans, and provided construction staking for site utility relocation and installation projects that removed and relocated existing utilities and installed new utility infrastructure. HMCG is currently providing utility designation (line-spotting) services for the project as an on-call service to Jaynes as well as providing layout for the structural elements currently being constructed.